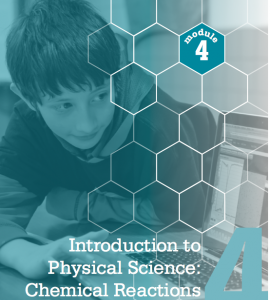 Original author
Resource type
Content area
Use type
Tools
Tags
Curriculum
Module 4:  Summary of Pacing Guide
Day 1:  Introduction to Chemical Reactions and preview of the base model (reaction of silver nitrate and copper).
Day 2: Analyze and modify the base model to add/remove water molecules and move the copper rod.
Day 3: Modify the model to add the production of copper nitrate, run experiments with different initial quantities of copper and silver nitrate.
Day 4: Modify the model further to create hydrated copper ions and turn the solution blue, characterize the rate of reaction.
Day 5:  Explore factors impacting the rate of reaction, run experiments and analyze results.  
For the updated version of this module, see CS in Science Module 4: Chemical Reactions for StarLogo Nova 2.0.  
If using Chrome as your browser, you may need to follow the steps to add the flash version of StarLogo Nova, to access the models built in StarLogo Nova 1.0. See instructions at https://teacherswithguts.org/news/heads-up-new-chrome-update-breaks-sta….
Log in
or
register
to view attachments and related links, and/or join the discussion