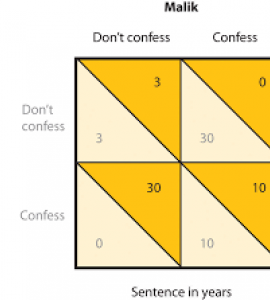 Original author
Resource type
Content area
Use type
Tools
Tags
Project name
This game is based on the problem of the Prisoner's Dilemma in which you have the choice of cooperating with a partner or defecting against them.  The background problem of the prisoner's dilemma typically described as the following: (from Poundstone, W. (1992) Prisoner's Dilemma)
Two men are arrested, but the police do not possess enough information for a conviction. Following the separation of the two men, the police offer both a similar deal- if one testifies against his partner (defects), and the other stays quiet (cooperates), the betrayer goes free and the cooperator receives the full sentence. If both cooperate and remain silent, both are sentenced to jail for a minor charge. If each defects and 'rats out' the other, each receives a sentence because of the evidence against them, but it is not as long as the full sentence. Each prisoner must choose to either betray or remain silent; the decision of each is kept secret from the other. What should they do?
The Prisoner's dilemma is this: It makes sense to for both players to stay quiet and take the lesser charge, but if you think your partner may stay quiet then it makes more sense to defect and be set free.
In short:
Two prisoners are interrogated in separate rooms without communication between them.
Each prisoner is given the choice of cooperating with their partner in crime (remaining silent), or defecting (implicating their partner in the crime).
Log in
or
register
to view attachments and related links, and/or join the discussion