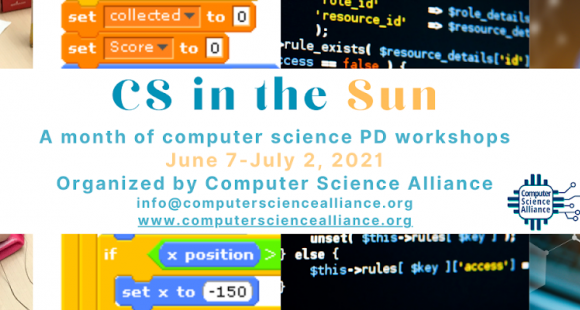 5-day virtual workshop for middle-school science teachers.  Open to participants nationwide.
Project GUTS is excited to be a part of CS in the Sun, a month of computer science PD workshops, organized by the Computer Science Alliance, from June 1st to July 2nd.  All workshops will be delivered via Zoom with engaging synchronous work and some asynchronous opportunities. 
Project GUTS is a free computational modeling curriculum aligned to NGSS & CSTA standards. It has 4 modules- Intro (ends with an epidemic model), Earth, Life & Physical Science. This free curriculum engages students to Use, Decode, Modify and Create their own computational models.
Target Audience: Educators that are middle school science teachers and/or educators developing an afterschool program or CS pathway or wanting to support young Supercomputing Challenge students.
Prerequisites: none