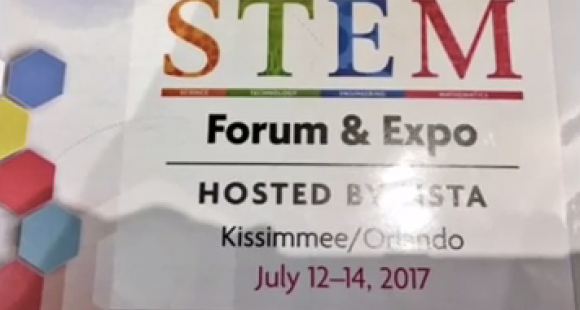 Project GUTS has been on the road this summer, spreading the news about modelling and simulation! Melody Hagaman and Su Gibbs hosted an exhibit booth at the Computer Science Teachers Association annual conference in Baltimore, Maryland with some great reception, and Melody went on to join Sheryl Arriola at the National Science Teachers Association STEM Forum in Orlando, Florida.  Between Project GUTS presentations, Melody and Sheryl got to attend some of the other amazing sessions at NSTA STEM Expo and Forum and have lots of information to share with all you other Teachers with GUTS!
The first session, STEM through Game Design, was hosted by Meredith Thompson, from Irene Lee's neck of the woods at MIT!  This was one of the most interesting sessions, as Meredith spent a lot of time focusing on what we focus on in Project GUTS--she pointed out the importance of student dispositions--using games lets students practice growth mindset by proving to them that failure and mistakes are okay.  Further, multiplayer games are actually Complex Adaptive Systems--there are many agents following simple rules, these games are generally leaderless, there is usually some sort of pattern that emerges, and they are unpredictable (otherwise, they wouldn't be much fun)! 
Meredith also ran through a bevy of tools for turning learning into games in the classroom, including lots of great resources straight out of MIT's learning lab.  If you haven't heard of App Inventor yet, it's a great (and free!) tool for getting kids to create their own basic apps, and its block-based programming looks a lot like StarLogo Nova.  This is a great tool to direct students to when they finish early or if they've caught the programming bug during the Project GUTS lessons and want to take it further.  Learn more at ai2.appinventor.mit.edu
Meredith shared two more resources that would be great for reinforcing the skills and concepts that students learn in Project GUTS.   Radix Endeavor (see image below) is a great for affirming student understanding of Complex Adaptive systems--his online massive multiplayer game allows players to grow food, harvest, and find resources in the environment, all while exploring how their decisions impact the environment as a whole.  Lure of the Labyrinth, on the other hand, teaches and reinforces logical thinking and math skills with a series of puzzles for students to solve in a fun, mythological mystery setting.  Radix Endeavor can be found at https://www.radixendeavor.org/ and Lure of the Labyrinth (Flash based) is available at https://labyrinth.thinkport.org/www/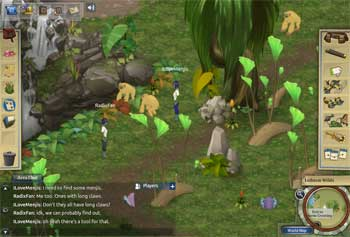 Radix Endeavor screenshot courtesy of Serious Games Challenge.
Building student inquiry skills is something we Project GUTS teachers have always been passionate about, so it was fun to get a chance to see some unplugged activities for getting students thinking computationally.  In the Beam vs. Suspension Bridges workshop, the presenters stressed the importance of students using physical models to understand the real world.  For this inquiry-heavy activity, students are tasked with building a beam bridge and testing its strength, then asked to identify its benefits and weaknesses, just as we ask students to identify the strengths and shortfalls of computer models.  Students are then given string, tape, and a simple suspension bridge design and asked to go from there.  The activity can be used as a warm-up, a brain-break, or a one to two period lesson--if any of you Teachers with GUTS try this, let us know how it goes!
We know so many of our Teachers with GUTS have iPads in their school, so we had to include info from a session on some pretty awesome iPad and tablet tools.  In Bringing STEM Discourse to Life with Stop Motion Animation, two Florida teachers shared their success with using tools like iMovie and Koma Koma to help students understand basic concepts by illustrating them.  Much like students gain a deeper understanding of systems by creating computer models, students who create claymations or other stop animations are forced to think about the basic behaviors that govern those systems, and they get to use computational thinking to abstract the important details and decompose the problem.  It would be interesting to see how this type of modelling could support what we do in StarLogo Nova--perhaps as a supplemental activity, students could create animations of their Complex Adaptive Systems for some tactile, kinesthetic experience!
A delightful retired couple from New York taught a session on blood spatters for teaching science, and while it would be a stretch to relate blood spatters to Project GUTS, they were an inspiration in the amount of time they put into creating resources and making manipulatives (see pictures below) for their students in order to ensure the students really grasped the content, which reminds us of all of the wonderful things the teachers in our Project GUTS community have done--we are so fortunate to have so many dedicated and creative teachers like you all! The Bertinos were more than generous with their knowledge and informed everyone of some pretty great free resources for  teaching forensic science, or simply teaching biology, physics, and math concepts through a fun, forensics-based lens.  You can get a free subscription to The Forensic Teacher periodical at http://www.theforensicteacher.com/intro.html and access the Bertinos' thoughtful and creative resources at their website:  http://bertinoforensics.com/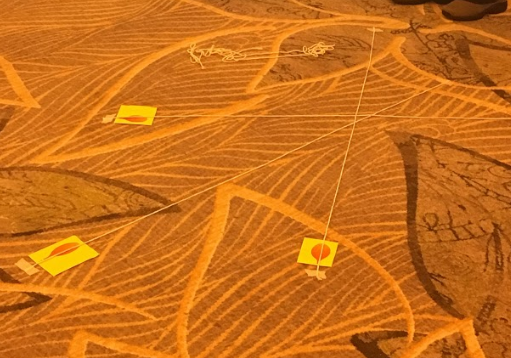 Giant blood spatter manipulatives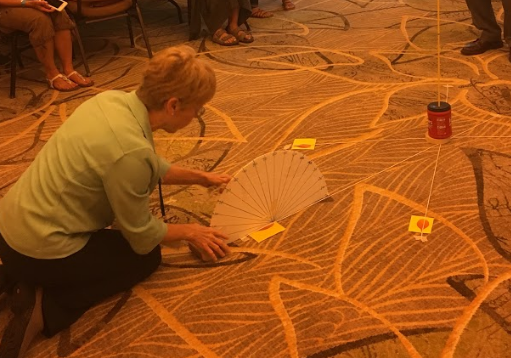 Measuring angle of impact with a giant hand-made protractor.
Some of the sessions at NSTA were focused on building the next generation of science teachers.  Meredith Thompson did another session about what MIT is doing to prepare their teachers to be highly effective in the classroom, and wow was it different than what most of us probably went through in our teacher preparation programs!  MIT's Teaching Systems Lab is a technology-rich, fully immersive experience for pre-service teachers, and they have made efforts to gamify the program! Candidates get to experience real-world teaching scenarios through activities like parent-teacher conference simulations, Motivation Station (a game in which they are tasked with finding a way to motivate students, and an activity for anticipating student misunderstandings called BalderMath (see photo below).  It is wonderful to know that there is innovation in teacher preparation, and if you're as curious as we were you can learn more at tsl.mit.edu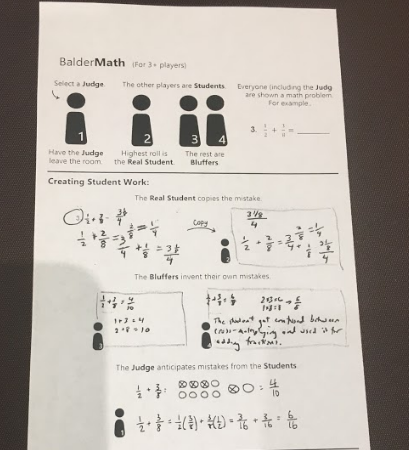 BalderMath activity for anticipating student misunderstanding.

The keynote speaker for the STEM Forum was none other than Derek Muller of YouTube Veritasium fame.  Derek spoke on The Uncomfortable Effort of Thinking and had some great points about inquiry and the need for teachers to refrain from giving students answers.  The keynote address took place the night before our own Project GUTS workshop and was a great pep-talk in the importance of leaving students hanging sometimes.  Derek modelled this for us by asking a question about a bicycle, having us make predictions, and then simply….moving on with his speech without telling us the answers.  This was definitely similar to what we do in Project GUTS with Complex vs. Complicated and with our Mystery Models.  You can catch a version of Derek's speech at https://www.youtube.com/watch?v=UBVV8pch1dM, watch the bicycle riddle (and others) here: https://www.youtube.com/watch?v=HgCXdNhVC1Q , and if you've never heard of Derek Muller or Veritasium you should definitely fall down the rabbit hole on his YouTube channel here: https://www.youtube.com/channel/UCHnyfMqiRRG1u-2MsSQLbXA .

In our own Project GUTS workshop, Infusing Computational Thinking into Science Classrooms, some technical difficulties taught us some pretty useful work-arounds.  The conference area did not actually have internet access, so we were forced to be creative with how we showcased our models and demoed our website.  Ultimately, we ended up recording videos of each and explained them in real-time as the videos showed.  One use of this was particularly exciting--we recorded one of our Mystery Models running, the setup and forever buttons being clicked multiple times, and the slider values changing one by one while the participants recorded observations and made inferences on their Model Observation Forms.  They seemed to have almost as much fun as the teachers and students who got to explore the models on their own computers in other workshops, and their inferences were pretty great!  We still think that letting students inquire and "mess around" with models on their own in priceless, but if technology access, time, or internet connection is an issue, recording yourself running and exploring a model can make for a pretty good substitute!

There were so many workshops and so little time--you know how these things go--but it was truly wonderful to get to learn so much in just a couple short days.  If you've been to a great professional development workshop recently, or found an awesome new resource to use, please share about it in the Discussion--we can't wait to hear about it!

Log in or register to join the discussion